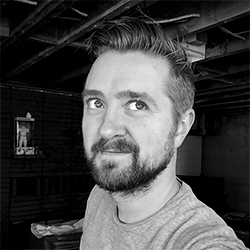 Empezamos el año con la entrevista al ilustrador americano Cam Kendell autor de cómics como Choose Your Gnome Adventure , Mortimer B. Radley: the Case of the Missing Monkey Skull, también es ilustrador de la serie Fart Quest de Aaron Reynold y artista de juegos de mesa como D&D's Dungeon Mayhem: Monster Madness, 5-Minute Mystery y Dungeons, Dice & Danger su último gran trabajo en el sector.
Cam nos explicó cómo fue su experiencia y el proceso de creación del arte de algunos de los juegos de mesa en los que han participado y también nos dará unos consejos para los nuevos ilustradores que quieran entrar en el sector.
Welcome Cam, for our readers who don't know you yet, could you tell us a bit about yourself and your beginnings in illustration?

Sure thing! I'm a freelance illustrator living with my wife and four kids in Orem, Utah, USA. Projects I've worked on include character design for animation and advertising, books like the middle grade novel series Fart Quest, Indie Comics like my Webcomic Choose Your Gnome Adventure, and a number of Board Games I'm sure we'll get into more later. I've always loved to create: Model making, comics, music, painting, and more. But my illustration career began when I quit my job as a painter of miniatures to start my own tabletop war-game company. In the process I did some illustration work for an author friend of mine and realized how much I loved using pictures to tell stories.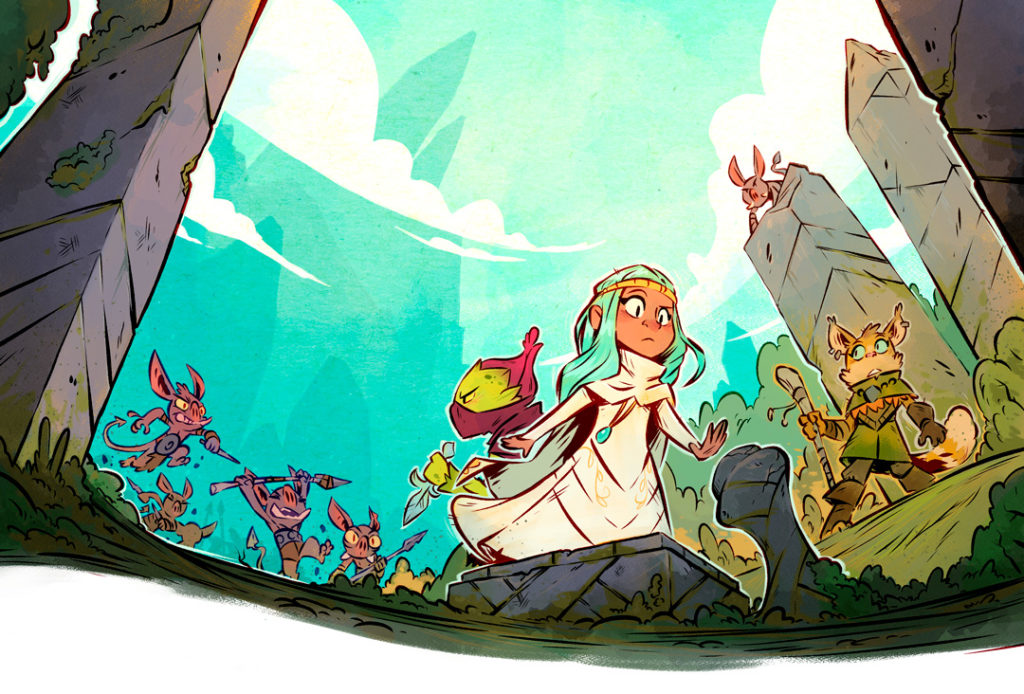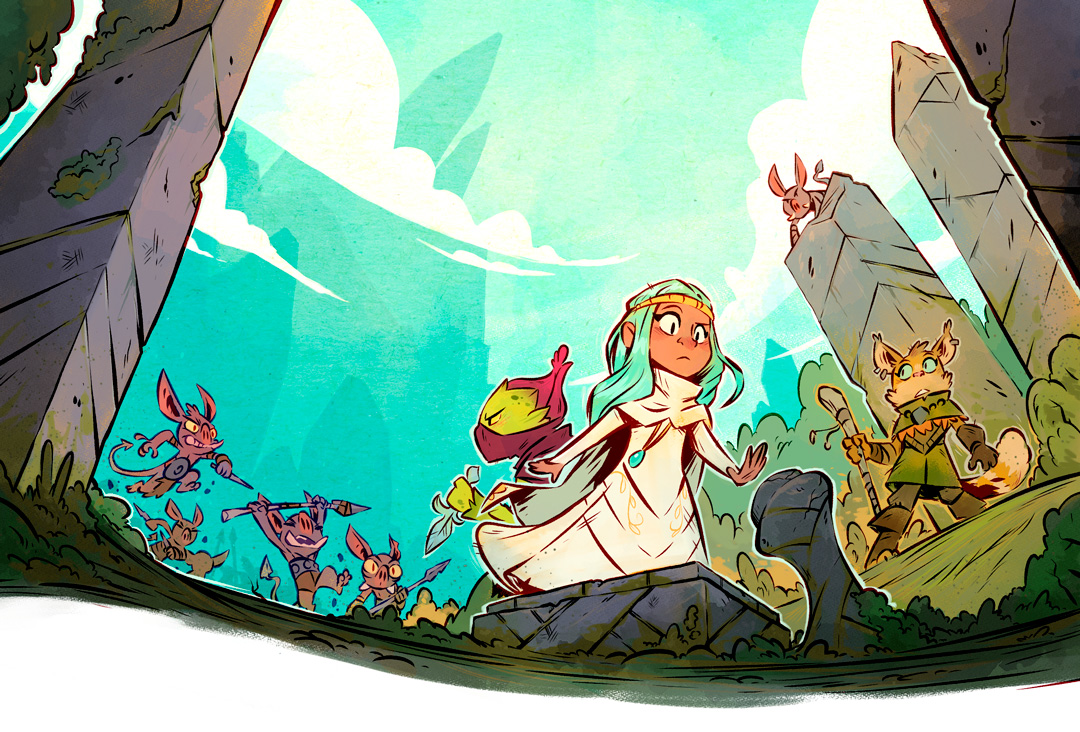 How did you first get involved in illustrating a board game and what did you learn from that project?

My first board game project was for the same author friend, who had now started an independent board game publishing company called Potluck Games. I was paid to create illustrations and a logo for his first game Dungeon Dice. I then went on to provide art for further Dungeon Dice expansions and a new game called Epic Dice: Tower Defense. Overall it was a great learning experience. I still had a long way to go with my art and working on these projects really helped me level up artistically. Did they pay great? No, not really. But, they paid what I was worth at the time and have lead to the other board game work I've had the pleasure of doing.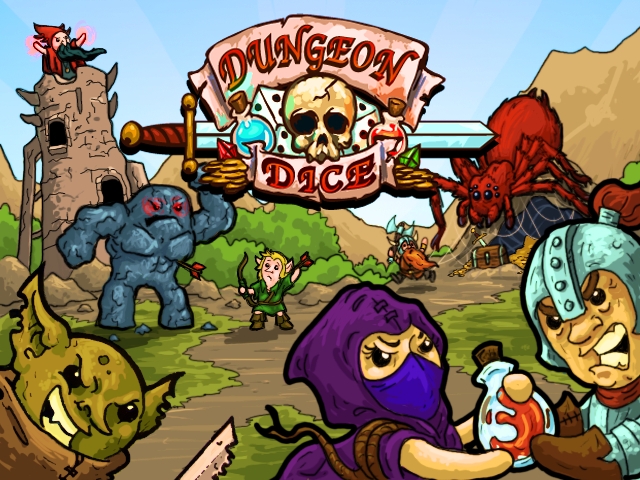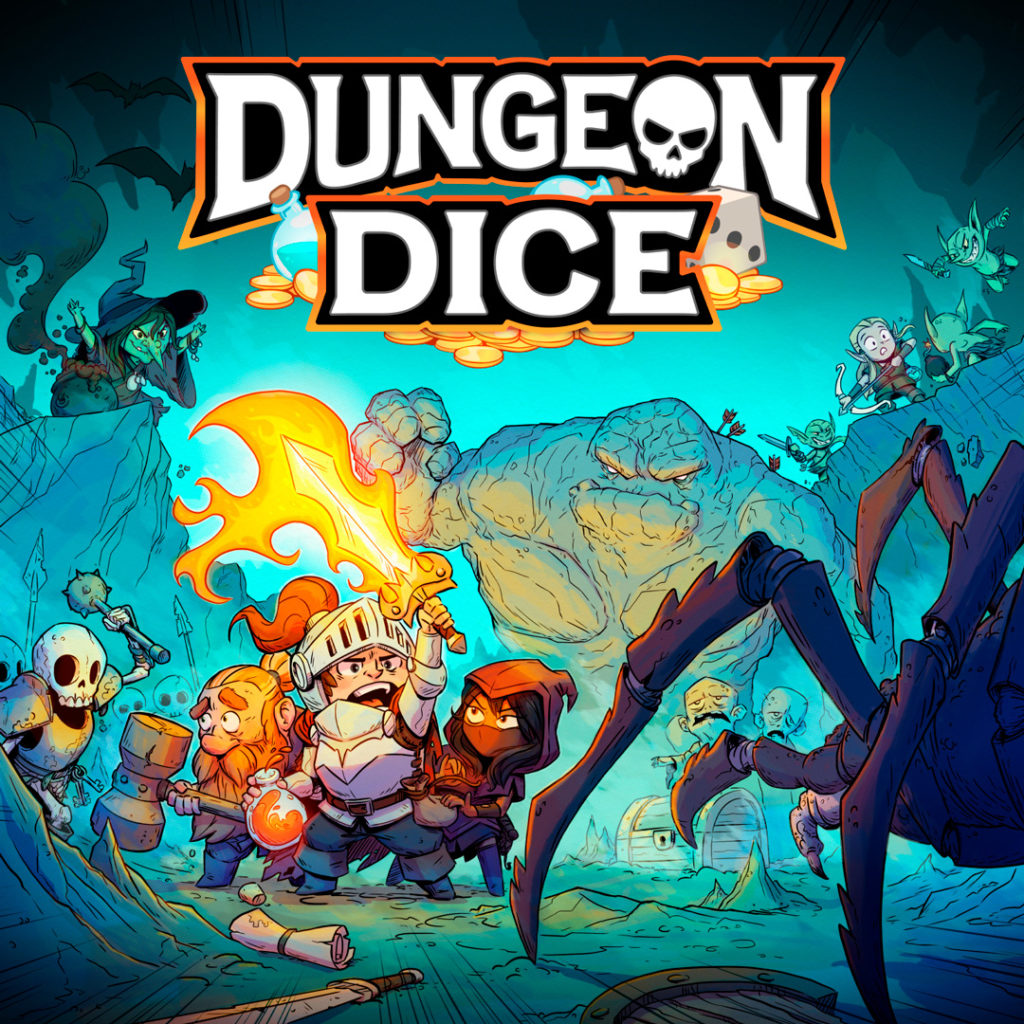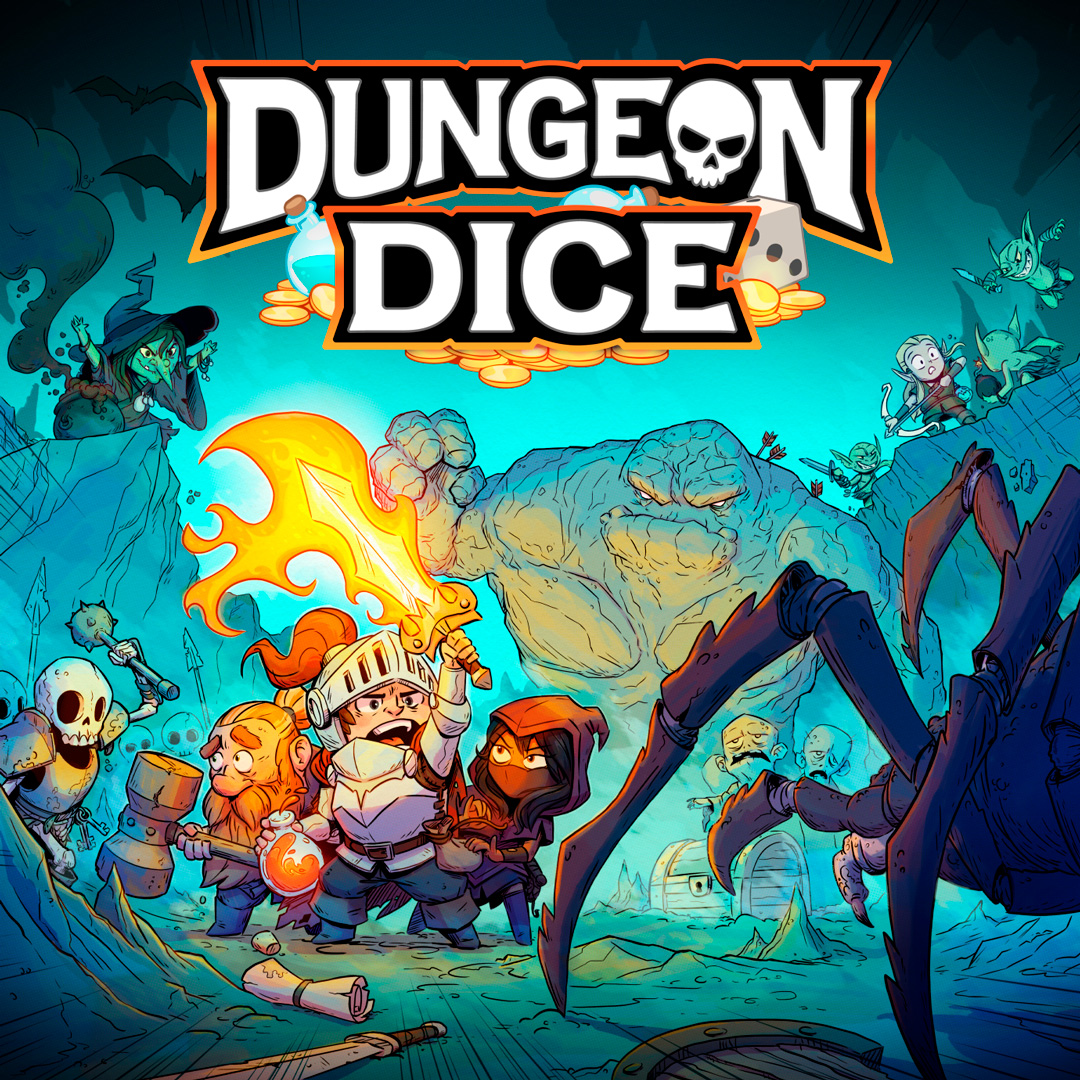 We are big fans of your crazy and fantastic characters, in general terms, could you explain us how is your creation process?

When I design a character I'm largely focusing on shapes. I'm always looking to push and pull the shapes to create an energetic and interesting character. The overall shape always comes first. After that it's all about what story the details tell about the character. Are they eccentric? Do they get all their stuff second-hand? Do they use jewelry and accessories to show their status. If I can answer questions like these I find the design process becomes much easy. Every design choice should add to the story being told.
You are responsible for the art of D&D's Dungeon Mayhem: Monster Madness board game. How was the experience of illustrating D&D's six most epic monsters?
This was such a fun project! I grew up playing D&D with friends and siblings and have always been heavily immersed in fantasy settings. On top of that monsters and creatures are without a doubt my favorite things to illustrate. Lord Cinderpuff was the most challenging to design and went through a couple rounds before landing on his final incarnation. Initial designs had him with a much more crocodilian jawline. Blorp was a personal favorite as I love drawing gelatinous cubes and gnomes. Overall the entire game allowed me to push the wild and zany characters to the extreme. It was also an incredible pleasure to illustrate this expansion as the base game and first expansion were illustrated by Kyle Ferrin and Jake Parker respectively, both of whom are great illustrators and friends of mine.
We can also see your amazing art in the 5-Minute Mystery board game, tell us how was your creative process? From the first ideas to the final artwork.

Like any other project, 5-Minute Mystery began with research of the time period. Looking at clothing and accessories from the appropriate era helps me to get a good idea of what I'll be illustrating and introduces me to new ideas I may not have already seen. With this game I also did research on the animals I'd be drawing. It's easy to assume I know what an anteater looks like but wether or not I actually do is a different question. From that point I'm ready to sketch out the initial character design making sure to keep the overall emotion and mood of the character clear throughout. When the sketch is approved I move onto a final line drawing and then color. All my work is typically done digitally, using either Procreate on an iPad Pro or Clip Studio Paint on an iPad Pro or an iMac with a Wacom Cintiq 22HD monitor. 5-Minute Mystery was illustrated entirely in Procreate.
During the whole process, which parts were the most difficult or problematic?
Honestly, each stage is about the same level of difficulty. The initial sketch can feel the most daunting as I'm faced with a blank page to fill but since I'm able to keep it loose it goes by rather quickly and can be one of the most enjoyable stages. Line work can be a problem but only if I didn't take enough time is the sketch stage to actually figure out the volume and perspective of what I'm drawing. Likewise, the color step can also go wrong quickly if I haven't planned adequately during the sketch. In the end, if I'm clear and deliberate in my sketch, taking the time to think about perspective as well as the values I'll use, the rest of the process goes smoothly.
One of the most anticipated games for 2022 is Dungeons, Dice, & Danger, for which you are responsible for its art, how did you get involved in the project and what can you tell us about the game and its art?

I'm incredibly excited for more to be announced about this game. Richard Garfield is an incredible game designer so it was an honor to work on one of his games. As far as I know, the art directors at Ravensburger/Alea discovered my work through my Instagram account (@camkendell) and then contacted me for work. Dungeons, Dice, & Danger is a Roll and Write style game with a quirky fantasy dungeon crawl theme. I can't say much more than that about the game itself but as far as the art is concerned, you can fully expect a lot of light-hearted, humorous fantasy art with a dash of creepy and a pinch of cute.
You have extensive experience as an illustrator, what do you enjoy most about your work?
Being an illustrator is the act of bringing a world and it's characters to life. Each project starts off as a mere idea in someone's head but over a few weeks, months, or even years, that idea starts to take physical shape and becomes something tangible that can be shared with others. It's that process and the smile on a person's face when they experience it for the first time that I love most.

Do you have any new or upcoming projects you want to tell us about?
Currently, a lot of my time is taken up by publishing projects. Book 3 of Fart Quest (a great series for any fan of Dungeons and Dragons) is set to come out early 2022 with Book 4 coming out later in the year. However, for fans of RPGs I've also been contributing a lot of art to the upcoming Little Legends RPG by Table Plays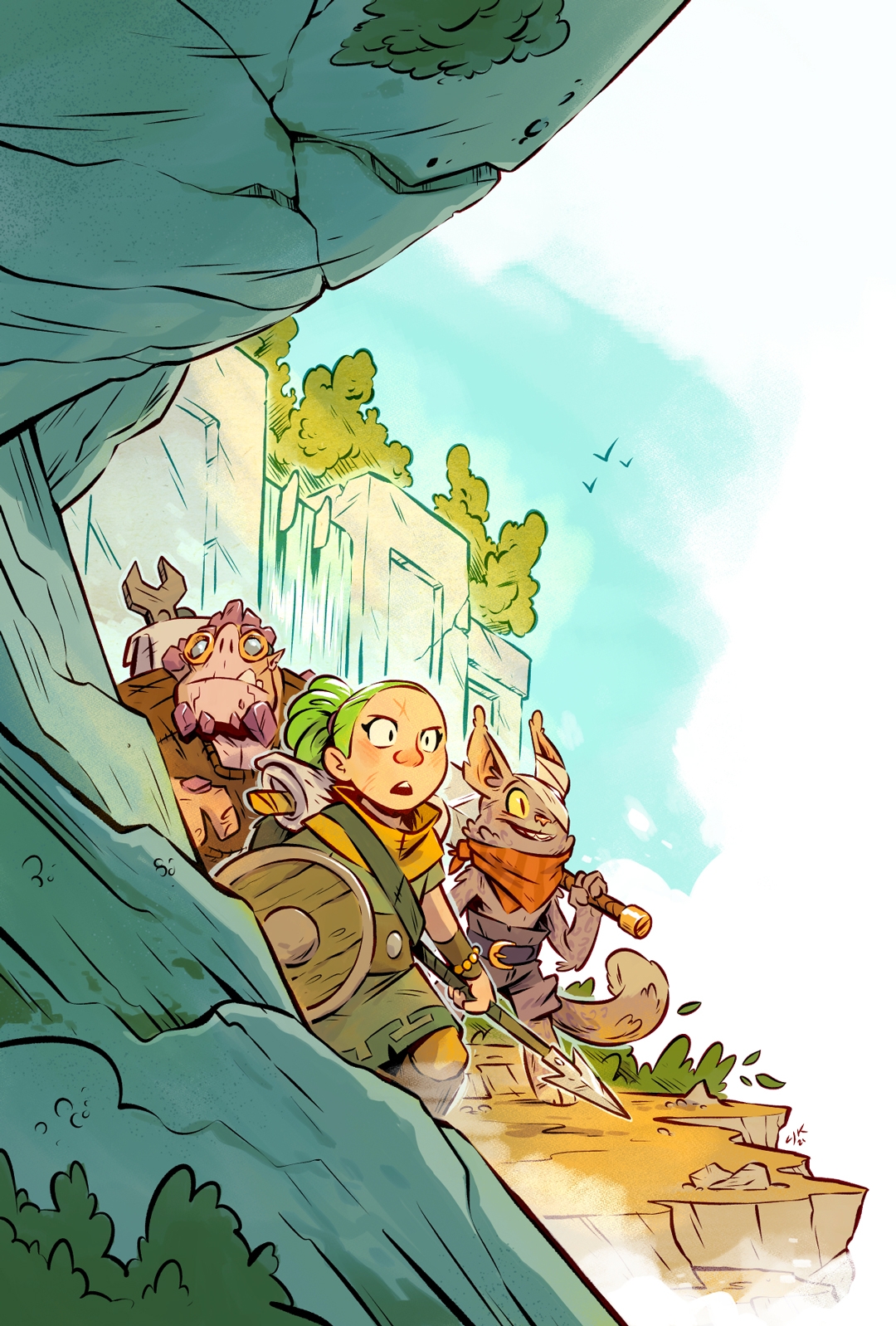 Finally, what advice would you give to our readers to enter the board game industry as illustrators?

The biggest truth I've seen is that everyone's journey looks different. However, there's one thing that I can always suggest: If you want to illustrate Board Games, start now. Don't wait. Design your own game (real or pretend) and illustrate it completely. It doesn't even have to be a full game with working mechanics but make something that looks real. Mock up the final box design, Illustrate the cards, tiles, and other components. If that seems too daunting, take a game that already exists and illustrate it in your style from scratch. How would you illustrate Clue? Monopoly? How about Fury of Dracula? Once it's all finished, share it online. Get a template website, Instagram, or Tumblr and share what you've done. Lastly, draw what you want to be illustrating. Don't like robots or mechanical designs? Don't put that stuff in what you're sharing. There's a reason I get asked to illustrate fantasy games… Publishers see the fantasy art I'm drawing and they can envision their project.
Muchas gracias Cam 😉

(Todas las imágenes cedidas por Cam Kendell)
Sigue las redes de Cam Kendell para ver sus últimos trabajos: